Crime data from Office for National Statistics has listed the topmost dangerous places to live in the UK. The data have used maps to identify both the most dangerous places and the least dangerous places. The National Statistics office tracked all the crimes recorded by police including drug offences, sexual offences and violent behaviours. Here is the list of the top five most dangerous places to live.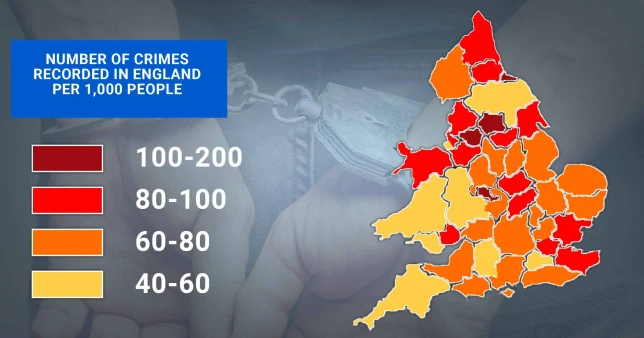 Cleveland
Cleveland county located in the north of England is the worst place to live with a crime rate of 139.6 crimes per 1,000 people. 
West Yorkshire
West Yorkshire reported 311,573 crimes till September 2022 (September as an ending month) with the second most crime rate of 311,573 crimes per 1,000 people.
Greater Manchester
Greater Manchester is the third most dangerous place with a crime rate of hefty 128.5 crimes per 1,000 people. 
West Midlands
Number fourth on the list is West Midlands, home to the UK's second-largest city, Birmingham. West Midlands recorded 126.4 crimes per 1,000 people, according to the crime data.
Merseyside
Merseyside is UK's worst area for its drug crime record. Achieving the fifth position on the list, Merseyside recorded 120.2 crimes per 1,000 people.