Mercedes-Benz announced the EQS SUV on Tuesday, an all-electric seven-seater based on the company's recently released premium EQS sedan.
When it goes on sale later this year in the United States, the Mercedes-Benz EQS SUV will compete with the Tesla Model X and BMW iX, with a range of 373 miles (600 km).
Mercedes has not released the price of this vehicle yet.
Mercedes-Benz EQS SUV
Earlier this month, Mercedes announced that they would be coming out with a new version in 2022 of their electric EQS sedan. Starting at a price of $102,310, the sedan is much more luxurious compared to other electric vehicles like Tesla Model 3 or S.
The EQS SUV is, in many ways, just a bigger EQS: same 56-inch pillar-to-pillar Hyperscreen (for higher trim levels), same 107.8kWh battery, similar design language.
Although Mercedes hasn't revealed the EQS SUV's 0–60mph time, acceleration is anticipated to be different.
EQS SUV Models
There will be two model levels, similar to the EQS sedan lineup: the 450+ with rear-wheel drive and the dual-motor sporty 580 4MATIC.
The 450+'s rear-axle motor will provide 265kW of power, resulting in 355 horsepower and 419 pound-feet of torque. The front and rear-axle motors in the 580 4MATIC configurations produce a total 400kWh, resulting in 536 horsepower and 633 pound-feet of torque.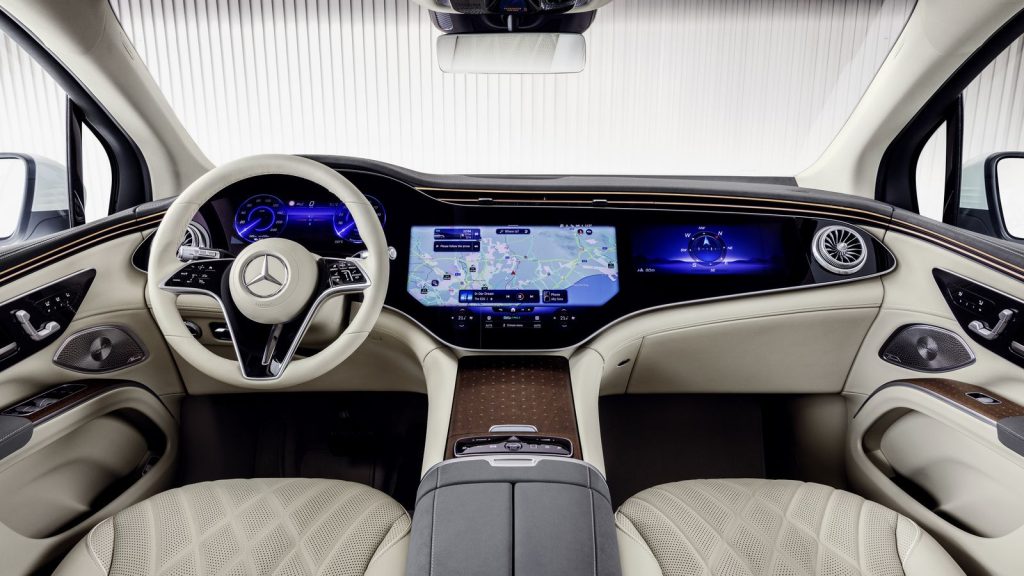 Mercedes-Benz vs Tesla
Electric and hybrid vehicles have been around forever. But Tesla is a company that pushes electric vehicles to be more efficient and popular.
Tesla has pioneered the technology for future vehicles. They are the first manufacturers to have a fully automated car that can drive itself. Tesla has also spent a year now creating a network of charging stations to make your road trip much easier and affordable.
For many people, what Tesla lacks is luxury. Mercedes-Benz is the pinnacle brand for luxury. If Mercedes can create a car and SUV with their luxury style but incorporate electric power, it may lead to a lot of people leaving their gas luxury car for theirs.
Other Electric Vehicles
Many other companies are also announcing and releasing their own electric cars and SUVs. Recently, Ford release their Mach-E, their electric Mustang SUV which is fairly doing well in the US market.
Google also has plans to come out with their own electric self-driving car which many believe will be the "Tesla Killer."
For consumers, it is great if more than one manufacturer comes out with electric vehicles. This will give people more options while keeping the price down.