A UPS driver and two others were killed and two others were injured with burn after a small plane crashed into multiple residential homes and vehicles in the city of Santee, 20 miles northeast downtown of San Diego in Southern California.
The twin-engine Cessna 340 plane made major damage to three homes which two were completely burned and also heavily damaged a UPS truck and other vehicles. The truck driver died in the crash.
UPS published a written statement saying, "We are heartbroken by the loss of our employee, and extend our deepest condolences to his family and friends. We also send our condolences to the other individuals who are involved in this incident, and their families and friends."
Two people were taken to the hospital with burn injuries, Deputy Fire Chief Justin Matsushita told two victims with burn injuries were hospitalized in a critical condition and there are possibilities of more to be found. A retired couple was rescued from one of the destroyed homes. The other destroyed home was vacant.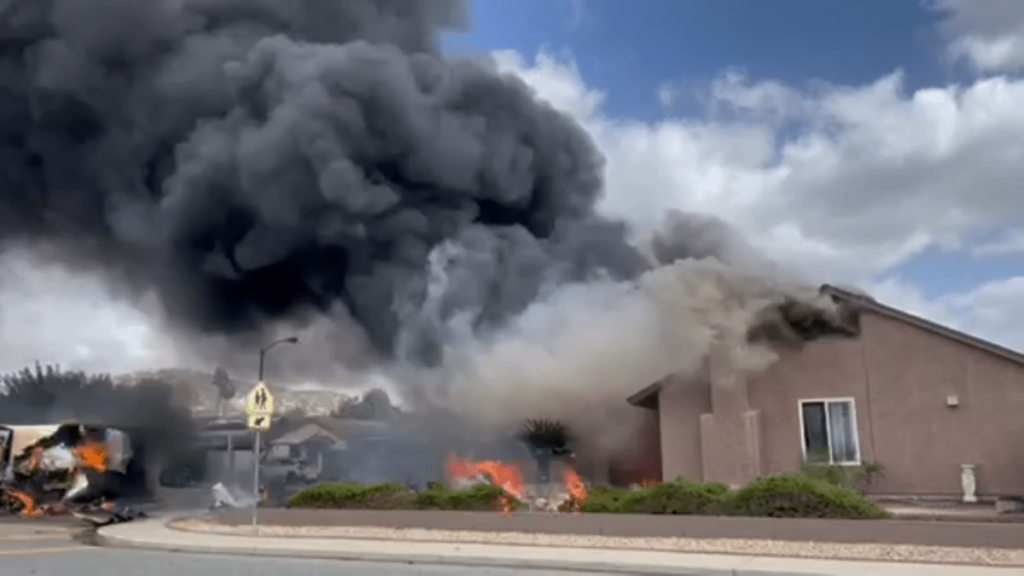 Jim Slaff, the son of the retired couple said that the neighbors pulled out his mother from a window of the burning home and his stepfather was rescued from the backyard appearing their dog died. The couple was taken to UC San Diego Medical Center shaking in trauma now doing well.
National Transportation Safety Board is sending an investigator on Tuesday morning.
Bottom Line: A small plane crashed into a San Diego outskirt residential area damaging number of homes and vehicles with three dead and two injured critically. Two houses burnt completely with a UPS van damaged heavily resulting in the driver's death.