A fabricated report by CNN Philippines showed a doctor that claimed to have discovered an effective diabetes treatment in December last year. The medical doctor mentioned in the fabricated story, said she did not take part in the promotion of any diabetes supplement called "GlucoPRO capsules".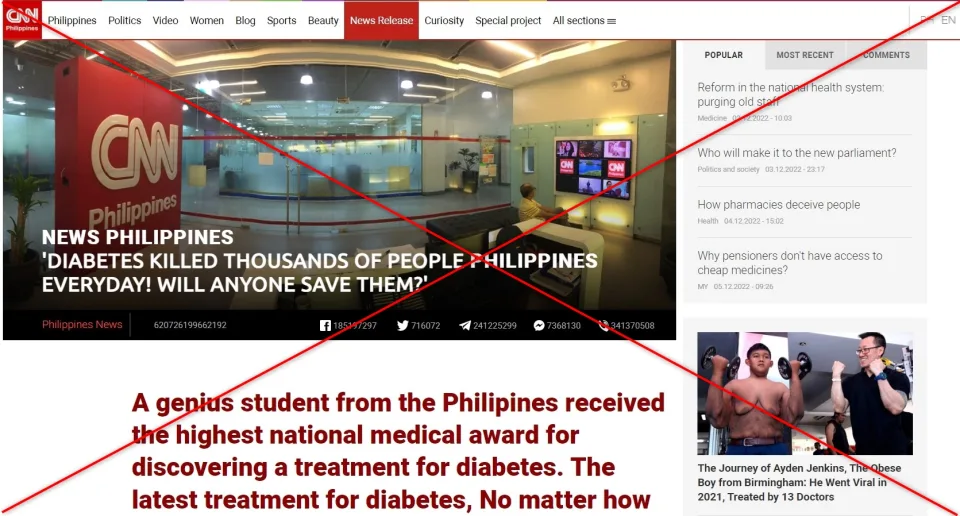 Story Was Shared Multiple Times
The story was published with a link to the imposter's own website. The Facebook post that was shared a hundred of times on different social media platforms. The photo showed Dr Minguita Padilla who later said she had nothing to do with the fake news report and she had never given an interview to CNN regarding the supplement. With regard to the authenticity of the supplement, multiple doctors have stated that they have found zero evidence in support of the supplement.
CNN Denied The Story
In response to the fabricated story CNN Philippines rejected any association with the diabetes curing brand. Dr Padilla's screenshot that was posted right in front of the fake story was taken from her interview with CNN on October 19, 2022. The fake CNN report had a fake CNN logo but had nothing to do with CNN. She gave the interview when she was a senate candidate 4 years ago.