Wildfires, extreme drought and earthquakes, due to climate change, may be the main concern for the Western Europe right now. But experts warn that a catastrophe is materializing in California, "Megafloods".
Extreme floods may submerge the largest subnational economy, displace millions of people across the state and will be the most expensive natural disaster in the history, according to a latest study According to the study published in the peer-reviewed journal Science Advances, a publication of the American Association for the Advancement of Science, by Xingying Huang and Daniel L. Swain, a flood is going to displace 5 million to 10 million people, destroy state's agriculture, dismember California's major transport routes for weeks or months with massive economic damage and submerge major Central Valley cities like Sacramento, Stockton, Fresno and Los Angeles.
'Meanwhile, a growing body of research suggests that climate change is likely increasing the risk of extreme precipitation events along the Pacific coast of North America , including California , and of subsequent severe flood events',

Daniel L. Swain
Worst case scenario
"Every major population center in California would get hit at once — probably parts of Nevada and other adjacent states, too," Swain said. The study also sheds light on the economic damage the disaster could cost. It is estimated to cost around $1 trillion to the economy with severe damage to agriculture. California produces over 3rd of the country's vegetables and two-thirds of the country's fruits and nuts. The effects for the infrastructure would be devastating with major transport routes shut down for weeks or months, Swain said.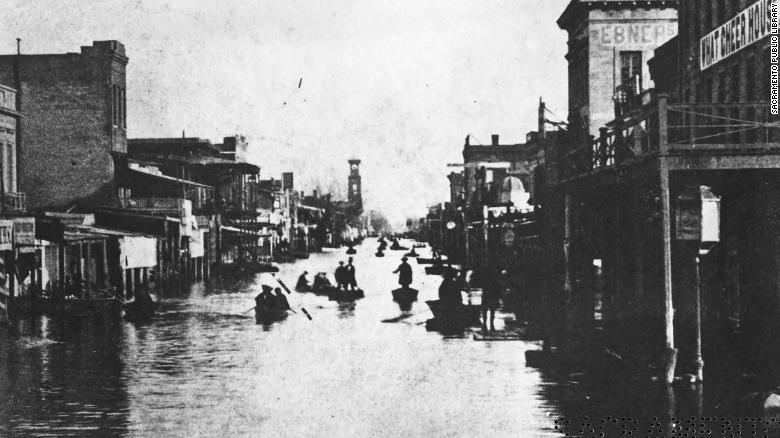 "We find that climate change has already increased the risk of a (1862) megaflood scenario in California, but that future climate warming will likely bring about even sharper risk increases," Study mentions. California's population in 1862 was around 500,000 but now it's 40 million. Friday's study revealed that such colossal floods have occurred every century or two in California over the past 1000 years, and the huge flood, expected to be around the corner and could hit California within 4 decades, is highly miscalculated by people and as well as authorities.