What else is in full bloom this season besides Springtime flowers? Certainly, there's no shortage of events and Event Wear Headpieces, Millinery, that are as much of a fashion statement as they are a reflection of character.
From the upcoming Central Park Conservatory Hat Luncheon, Hattitude for the Denver Center's Women's Voice Fund, Mothers' Day, The Kentucky Derby Parties, garden parties, and 5-star hotel afternoon teas, Springtime wastes no time in fashion-forward events and attire. Millinery for special occasions helps to create an elevated atmosphere with style and whimsy.
International Maven of Millinery Jennifer Kofler, Owner of Vivian Bloomsweighs in with her expertise on style and personality traits based on headwear selection. Take a closer look at this eye-opening guide as to what your hat may say about you!
Using Your Thinking Cap
Whether you're flipping through fashion magazines, walking into trunk shows, or browsing at pop-up shops featuring Event Head Wear, a prospective client is presented with a cacophony of flowers, feathers, ribbons, and bows. This is an engaging choice and may symbolize a little more than you think!
To a certain extent, it is a Style Rorschach's test, where people may question what they are looking at and project it onto them—but maybe what's more important is who they see when they try it on and look in the mirror.
A client who is either encouraged by the shop keeper, or perhaps a friend, will soon be emboldened to put on a headpiece. There is always an immediate reaction to seeing their reflection for the first time transformed by the adornment. Positive or negative, a joyful smile emerges, or perhaps an awkward and immediate "No." Regardless of the reaction, there now may be a desire to go down the path towards discovering how different headwear transforms the look, and perhaps more importantly, how they make you feel.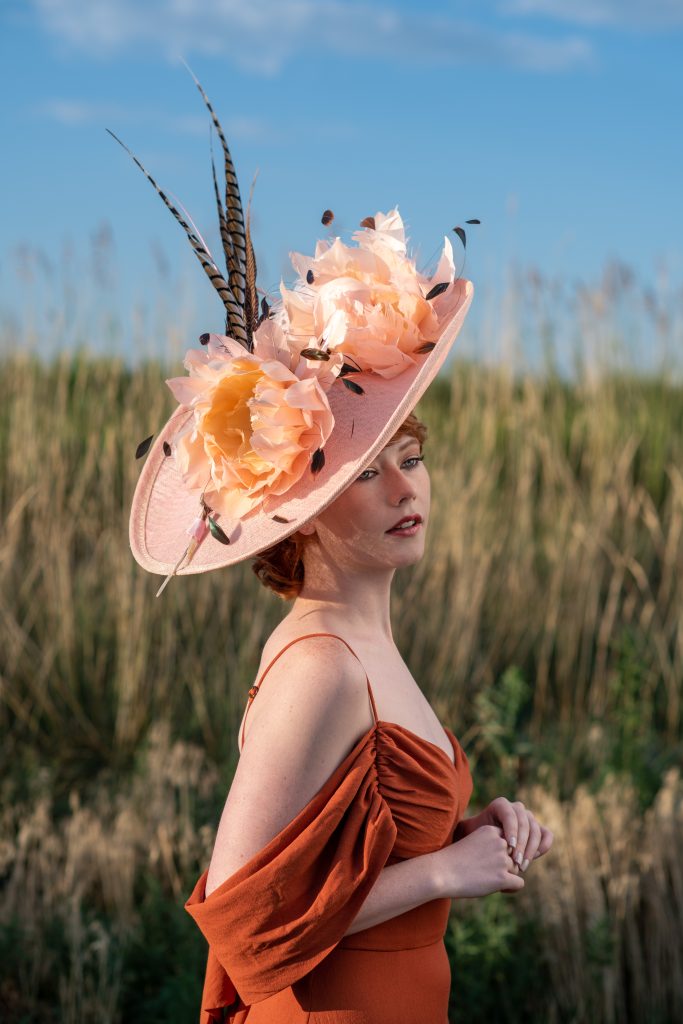 What's Your Hattitude?
Headwear selection may evoke a certain emotion, or simply often emphasize your current state of mind. Oftentimes, when perusing through or trying on the headpiece that's right for you, the wearer should feel—playful, beautiful, enchanting, dramatic—and will hopefully experience the headpiece's special power of transformation.
There are "concepts" to keep in mind about event wear hats. Rules, no—while there are no actual rules to wearing a headpiece, they are more simply guidelines.
There is the utilitarian need for head covering at outdoor events, but why not do it with style? All the recommendations below are to be taken simply as suggestions.
Are You In or Out?
When planning your attire for an event, the first question must be—Where is the event? Is it
indoor or out?
With the ubiquitous photo opportunities at events, people should take into consideration the casting of shadow on the face. The difference is significant between an up-turned wide brim, which provides an open face, and the shadier down-turned brim that can cause a breaking of the visual line over the face in pictures. This can be mitigated by how the down-turned brim is placed on the head, but it is a consideration, nonetheless.
I suggest always taking a selfie wearing the hat and inspect the image to see if it is what you are wanting to visually manifest.
A thing to remember during your hat hunt is that you want to contradict, not conform. A good rule is to wear large brimmed hats in outdoor settings. Fascinators and slices are perfect for events indoors or events where you will be going in between, and where the headwear can be displayed to its best advantage without needing the sun-protecting brim.
Face-Forward
Something else to think about, like Frank Sinatra said, "Cock your hat-angles are attitudes." Put another way, it is very pleasing to the eye to create a dynamic asymmetric effect against your face shape, either with the brim or the embellishment. One more would be to try to have an upwards thrust to the presentation of the hat.
The ROUND Face Shape: (i.e., Selena Gomez and Drew Barrymore) A round face will look better with a slanting brim then with a bowler hat for example. Hats that have an angular feel: a small trilby or fedora at an angle for example.
The OVAL Head Shape: (i.e., Beyoncé and Bella Hadid) The oval face can work well with almost any hat shape.
The HEART Face Shape: (i.e., Scarlett Johansson and Reese Witherspoon) As with the oval shape, your choice of hat styles are wide caps, cloche hats, brimmed hats, and pillbox hats that all work well.
The LONG Face Shape: (i.e., Liv Tyler and Sarah Jessica Parker) This shape works well with a wide brim and worn at an angle or worn down across the forehead. This will reduce the elongation and create a pleasant balance of the facial features. The wonderful slope of a beret also is a fabulous choice.
The SQUARE Face Shape: (i.e., The Jennifer's: Gardner, Anderson and Lopez) For these face shapes, asymmetrical styles are well-suited. Angles, tilting the hat, are always good.
The DIAMOND Face Shape: (i.e., Hailey Berry and Rihanna) Wearing a straight- brimmed hat, flat across the brow is recommended because in a diamond-shaped head, the forehead is smaller than the widest part of the face. A medium to large brim would also work well.
Selecting the Right Outfit for your Headpiece
The dynamic visual experience will be found in complementing the outfit. This philosophy may lead you towards finding an eye-catching alternative answer—and not in matching the clothing to the headwear, which can appear like a costume.
There is then the age-old question: which comes first, the hat or the dress? As a milliner, I feel compelled to mention that you should choose the hat first. Try it on to
gauge if you love it, and how it looks and feels. Then all you will be tasked with is simply finding a dress to complement the hat. At this point, I would like to mention
the wonders of the luxury resale website, The Real Real. This site and others like it provide wonderful choices.
The one warning I would have if you chose the other way round, meaning finding the dress and then searching for a hat to go with it, is that you might find yourself in the position of having to get a custom bespoke hat made, which full disclosure, means a considerable increase in cost, up to 3x the cost of ready to wear items.
Does it go? The silhouette and color of the dress is incredibly important to the overall visual effect of the ensemble. Play and trust your instincts. Finding that special hat should be a fun and memorable experience. You should feel comfortable and at ease.
Above all else, Enjoy. Enjoy the experience of choosing the hat, or the wonderful deluxe experience of having a bespoke one made for your outfit. Enjoy the day of the event and then you can keep the hat as a memento of the great event and store it away until the next time you have a chance to wear it and you can open the box and feel like you are meeting an old friend.
A hat is magical the moment someone puts it on their head. It changes how a person acts and feels. The hats are decorated with crystals, feathers and bows. Hats are a wonderful outward expression of a person's inner truth and personality. They have the power to both enhance and transform the wearer.
Amazingly versatile, hats can be a celebration of style, frivolity, and fun, conversely an acknowledgment of somber events. The millinery helps to create an elevated atmosphere for participants on many occasions. From weddings to funerals, headwear play's role in the declaration of the event's importance. Worn headpieces can be seen as a tangible reminder of life's most momentous and significant events.