Dallas – There used to be a time when Airbnb offered a good deal, you would be able to rent an entire house for a price of a hotel room, but that honeymoon phase is now over.
Airbnb and its hosts now charge excessive rates. With deposits, cleaning fees, guest fees, pet fees, and other costs, Airbnb is quickly becoming more expensive than hotels.
The Airbnb Effect On Housing And Rent
Initially, Airbnb hosts were people who had vacation homes that wanted to make extra money. These days, however, people are either putting up their own personal homes for rent or buying homes in suburbs for short-term rent. This affects both the local rent and causes home inventory shortage since people are buying it strictly for the purpose of short-term rental. Short-Term rental does have its own benefits because it does boost the local economy, but Economic Policy Institute, a non-profit, non-partisan American think tank, found that the economic costs of Airbnb likely outweigh the benefits:

'While the introduction and expansion of Airbnb into cities around the world carries large potential economic benefits and costs, the costs to renters and local jurisdictions likely exceed the benefits to travellers and property owners.'
Airbnb Prices Are Not What They Appear
To offer an example, in June 2021, Jill Grant (not her actual name) leased a cottage in the Smoky Mountains (Tennessee) on Airbnb for four nights at a fee of $425 per night. However, adding a $275 cleaning charge, a $234 service fee, $248.63 in taxes, and $59 in statutory property insurance brought the total to $2,491.63, or $622 per night. "Plus, the housekeeping workers left a tip envelope in the cabin," she adds, surprised.
Why Are Airbnb Prices Going Up?
There are different factors that have made the price of renting an Airbnb go up. One of the biggest reasons is the COVID-19 pandemic.
Airbnb forced hosts to clean their properties more thoroughly than before due to COVID-19. As a result, many hosts had to hire additional professional cleaners, which increased the cost of cleaning.
Service and guest fees have both increased. It is as much as 14% more in certain locations than it was previously, and it is more than 16% higher in the United States than it was only a few years ago.
In some cities, Airbnb is treated just like a hotel so they have to pay the same fees on top of the other fees as well. This really depends on the city and the area the Airbnb is located in.
Super Hosts: More Like Super "Rude"
With great power comes great responsibilities. But sometimes with great power comes a power trip. This can be said about many hosts of Airbnbs.
It's true that hosts have the right to come up with rules for their property. But many hosts forget that having Airbnb put you in the service industry and you must treat every customer with the utmost respect.
As evidenced by this Facebook group run by several Airbnb hosts throughout the world, many hosts have lost sight of this.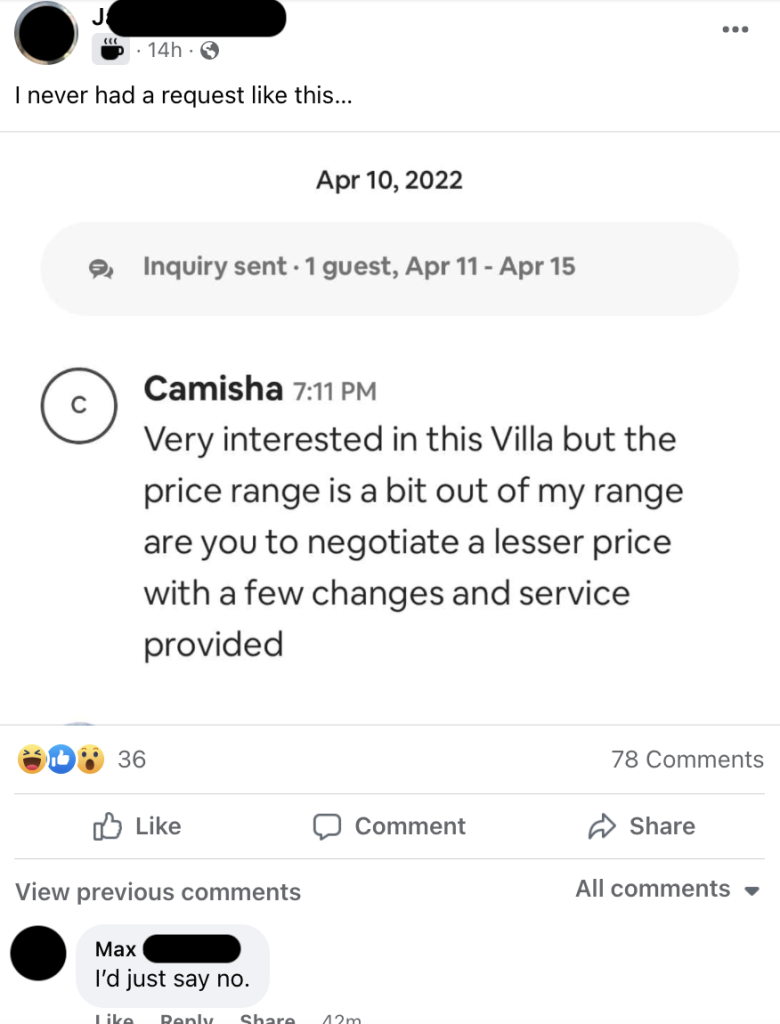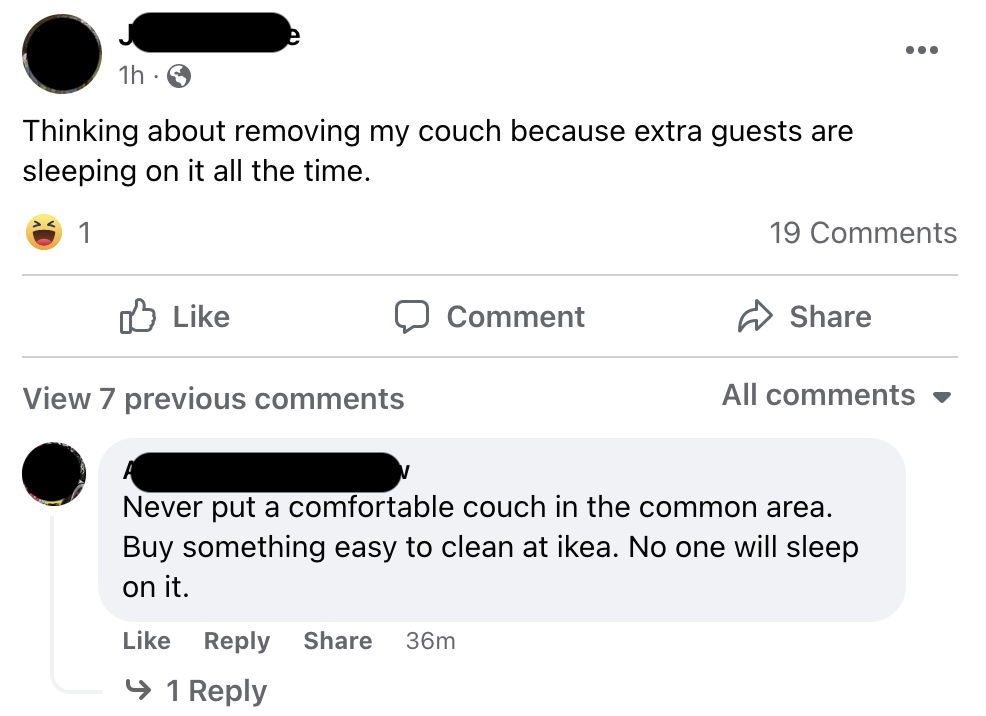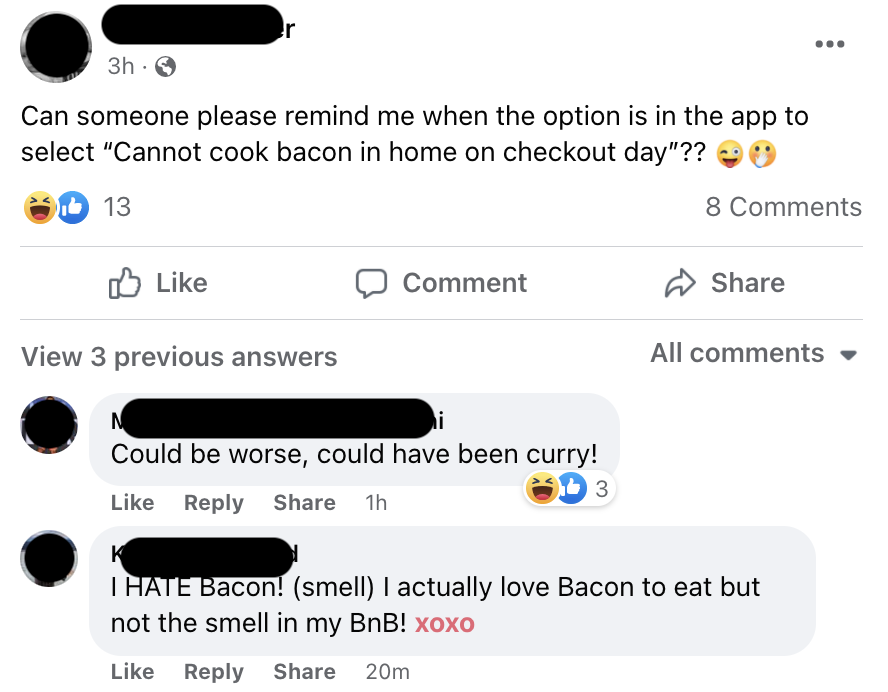 People Going Back To Hotels
Pro of Staying At Hotel
One of the biggest pros of staying at a hotel over an Airbnb is going to be their consistency and experience. Hotels have been doing this for a long time and an Airbnb host might only have a few years or less of experience.
The second biggest reason is the cost-share. Hotels have many rooms and guests so their cleaning fee is spread out but for an Airbnb, you might be the only guest on that property so you are paying the biggest cleaning fee.
For the same or less price per night, in a hotel, you are getting a lot more amenities. Of course, this varies from hotel to hotel but many hotels provide breakfast along with drinks and snacks in the evening time. ( and no one will ask you to do dishes or laundry before you check-out)
Why Do Some People Choose Airbnb Over Hotels?
If you are traveling with more than 4 people, a hotel might get costly.
Airbnb is a little more flexible than a hotel when it comes to large groups. Most Airbnb properties are full houses that can sleep more than 8 people at one time. Because they are a full house you have better parking, more rooms, more beds, backyards, and a full kitchen (meaning you can save on food and other costs as well).