San Francisco – More than 48,000 grocery store workers voted to go on strike demanding higher pay from stores owned by Kroger Co and Albertsons Companies Inc in Southern California.
In its discussions with the grocery employees, which began on Jan. 28, the United Food and Commercial Workers International Union (UFCW) has sought considerably higher and equal pay, adequate staffing, and suitable working hours.
Ralphs, which is owned by Kroger, said that Union's demand was impossible because they cannot make a profit margin if they raise wage while proposing to keep its approximately $133 million yearly investment in health care coverage.
Grocery workers have been going on strike across the country for the past few months.
Why Is Grocery Price Rising?
The price of groceries has gone up every single month in the past year. Especially after the Pandemic last year.
Grocery prices have risen by 6.4 percent in the last year, the biggest 12-month increase since December 2008. With a 20.9 percent price rise, beef was the most expensive.
According to food industry leaders, increased labor, freight, and ingredient costs are causing the price increase, affecting practically the entire logistic.
The Real Reason Why Grocery Workers Demanded Voted For Strike
According to The Washington Post, more than 3 million Americans work in grocery stores, stocking, bagging, scanning, and performing a variety of other activities in order to service customers and keep Americans' pantries and refrigerators stocked.
According to Indeed, an average Kroger cashier made $10.31 per hour in July 2020, while an assistant store manager paid roughly $16.40 per hour. The lowest-paid workers were baggers, who earned an average of $8.53 per hour.
History Of Previous Grocery Strike
Nearly 70,000 Southern California grocery workers were on picket lines for more than four months during a strike and lockout in 2003-04.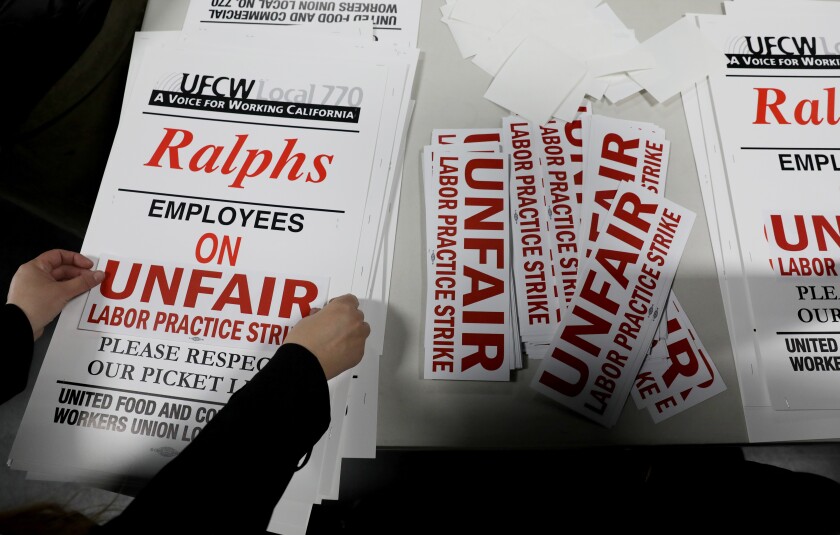 During the final day of negotiations, the union stressed the critical role that grocery workers performed during the coronavirus pandemic, according to the union.
Ralphs said on Monday that it hoped the union would come back to the table with a fresh enthusiasm in negotiating a fair agreement.