Goff Corp (OTCMKTS: GOFF) is currently steady with a support price of about .30 cents avg in past 3 months. If GOFF's resistance of .50 cents can be broken, we will see a huge boost soon.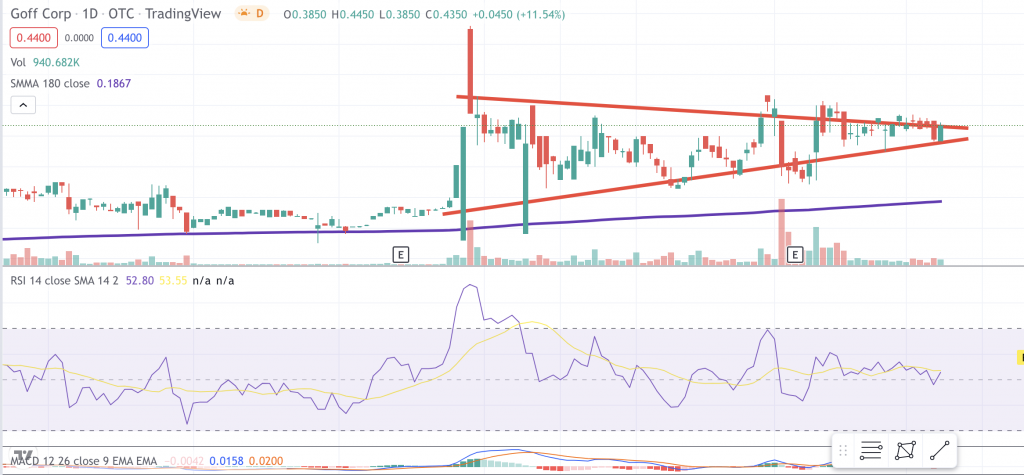 Major Catalyst About GOFF
GOFF has 2 major catalysts combining up which might help push the price up in several weeks or months: Forward Split & Its entry into $40 billion dollar NFT space. ( oh and it's changing its name)
GOFF recently filed a 10QSB stating that they debt-free and a optimal merger candidate. Whome they form this partnership is vital as it will also decide the price of the stock at that time. On top, GOFF was able to cancel 50 million shares along with another 5 million "Convertible Preferred Shares", which could have been converted to another 150 million common shares. More recently the Company tweeted another 78 million shares are possibly on the block to be canceled, leaving a low OS of 99 million shares. 
The Name Change
Goff Corp (OTCMKTS: GOFF) was incorporated in Nevada in 2010 to focus on mining gold and silver, but since 2013 the company was dormant until until June 9, 2021 when custodianship was awarded to George Sharp. It has recently filed for a name and symbol change as well.
Forward 3:1 Split
The most common type of stock split is a forward split, which means a company increases its share count by issuing new shares to existing investors. For example, a 3-for-1 forward split means that if you owned 10 shares of company XYZ before it split, you'd own 30 shares after the split took effect. Forward stock splits can signal to the market that the price of a company's shares is rising and that the stock therefore might be a good buy.
Our take on it: Forward split is generally seen as a positive signal but it really depends on who the company does merger with.