More than 20 passengers safely pulled out without any major injuries from an MD-47 plane after it crashed into a fence and erupted in the fire as the take-off slipped at Houston Executive Airport.
All the 18 passengers, 2 pilots, and one crew managed to escape from the crashed plane, only two with minor injuries before firefighters extinguished the flames on it in a nearby field outside the airport.
Texas Department of Public Safety spokesman Sgt. Stephen Woodard said that the McDonnell Douglas MD-87 traveled 500 meters on the runway before take-off. The plane failed to manage the right altitude at the end of the run, fell down to a northside field after crossing Morton Road.
FAA said the plane rolled through a fence after coming down to the field and caught fire at around 10 AM.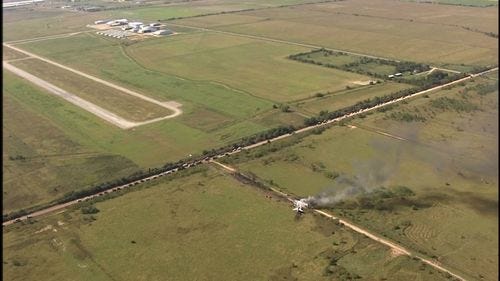 The charter flight was heading to Boston for Major League Baseball's American League Championship Series between the Houston Astros and Boston Red Sox.
Bottom Line: 21 onboard passengers & crew menbers managed to escape safely from a Boston-bound plane crash after take-off at Houston Executive Airport.