According to the National Hurricane Centre, the tropical storm Sam strengthened into a hurricane over open Atlantic waters early Friday morning may hit the eastern coast by Tuesday next week.  It will be converted to a major storm by Friday night or Saturday morning.
On Friday morning at 5 AM Eastern Time, Sam has located about 2,673 miles east of West Palm Beach or 1,470 miles east-southeast of the Leeward Islands. It was aggressing to its west at 15 mph. However, in a quick circumstance change, it turned to a hurricane from a tropical depression with an increased speed of 75 mph.
AccuWeather Senior Meteorologist Rob Miller says "Sam could approach the northern Leeward Islands by Tuesday of next week as a major hurricane." A major hurricane is a classified storm with winds minimum of 111 mph.
There is no accurate forecast about a proper destination point where Sam may hit upon. However, residents from Bermuda to the Bahamas, the East Coast of the U.S., and Atlantic Canada have been given the warning to monitor the system very closely for advance preparation to its potential effect.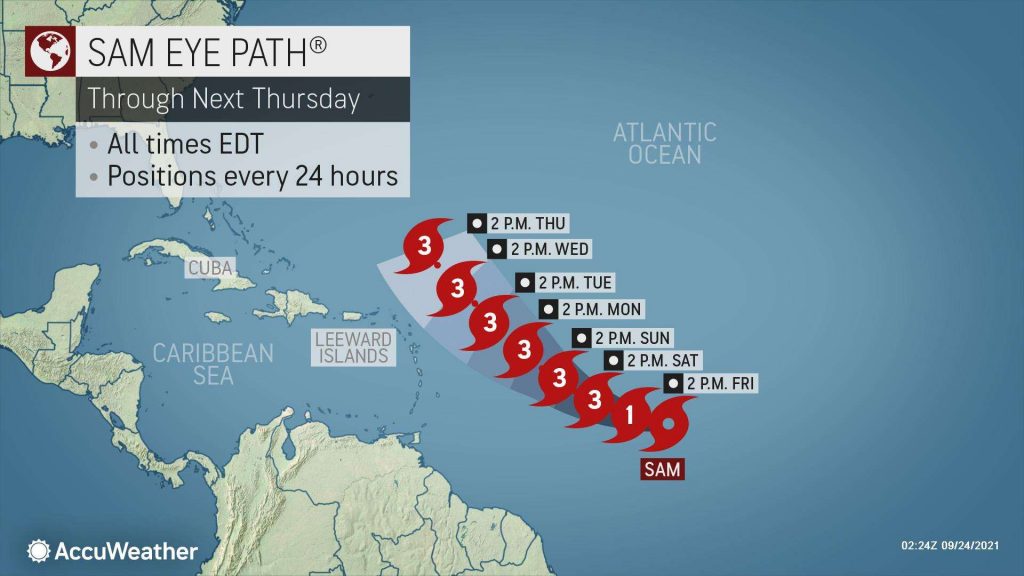 Sam is the 18th storm having an identical name of the Atlantic season and the seventh hurricane generated in this region.
Bottom Line: Sam, a tropical storm in the east Atlantic, generated on the west coast of Africa quickly converted into a hurricane may hit the US eastern coast earlier next week as it moving aggressively towards its west.