Thousands of Lake Tahoe residents were asked to evacuate their homes as the Caldor Fire kept moving closer. The police officers of South Lake had gone door-to-door asking the residents to leave on Monday keeping in check the movement of the Caldor Fire.
The officials reported that this is just the second time when the wildfire had crossed the Sierra Nevada. A month ago, a similar wildfire took place it is the still-active Dixie Fire. Through a resident's, video doorbell system, a South Lake officer was found saying, "Sorry to bother you, this is an evacuation system."
Director of California Department of Forestry and Fire Protection, or Cal Fire, Thom Porter comments, "Caldor is a real tough one for us." Tim Ernst, Cal Fire's operations section chief, commented, "Drought, the area's topography and the forest's age and density have complicated efforts to contain the wildfire, which sparked Aug. 14, Containment dropped from 19% to 14% on Sunday as a change in weather caused the fire to expand rapidly. Fueled by winds, the fire pushed east by 8 1/2 miles and gained more than 25,000 acres."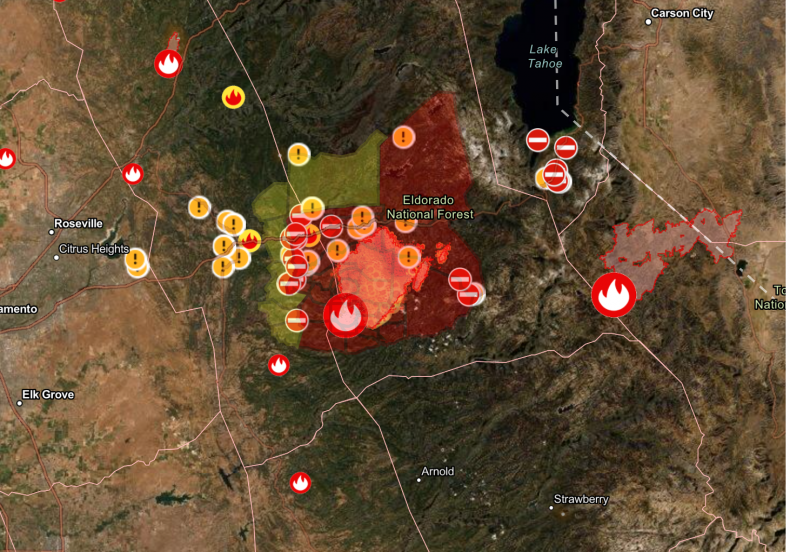 22,000 residents of South Lake Tahoe had received evacuation orders by Monday midday and the entire process came to an end by the early evening.
Bottom Line: After last month's Dixie fire, now it's the Caldor fire that crossed the Sierra Nevada. Thousands of residents were individually instructed to evacuate their homes by the South Lake Tahoe officers.