As per the hospitals, in multiple parts of the US, a vast majority of the patients are driving up COVID-19 hospitalizations being unvaccinated, most of them are renewing their surge plans to be used during the peak of the pandemic.
The highly contagious Delta variant is spreading nationwide. Multiple hospitals and Public Health officials are arranging for hospitalizations to assuredly meet new pandemic peaks when a big ratio of the population is unvaccinated.
Advent Health, which manages a total of 41 hospitals across seven large Southern and Midwestern states, reports that 97% of approximately 12,700 COVID-19 patients who got treated this year were either partially treated or not vaccinated at all. This data however excludes few Advent Health hospitals under joint ventures.
Jeffrey Kuhlman, Advent Health's chief quality and safety officer said, "Of the fully vaccinated Covid-19 patients who have been or are in Advent Health hospitals, many have weakened immune systems due to cancer or other conditions".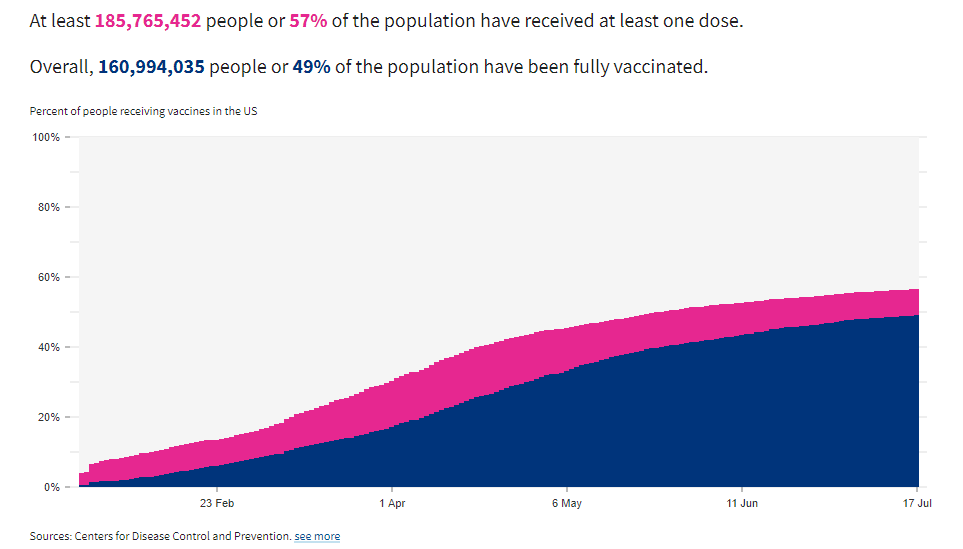 HCA Healthcare Inc., one of the Nation's largest hospital systems, reports that their data shows less than 1% of fully vaccinated people among their COVID-19 patients.
Bottom Line: Regional hospitals where the percentage of vaccinated people are minimum are preparing for surges to meet the needs of the patients when the pandemic hits the peaks.